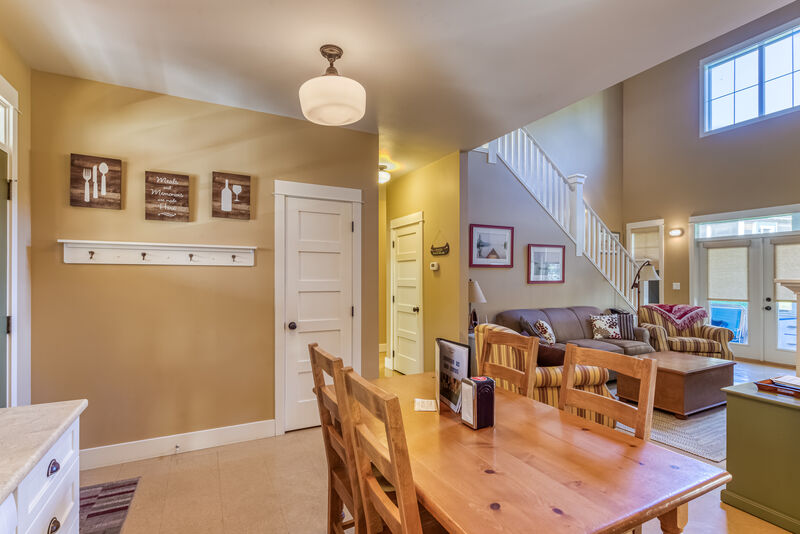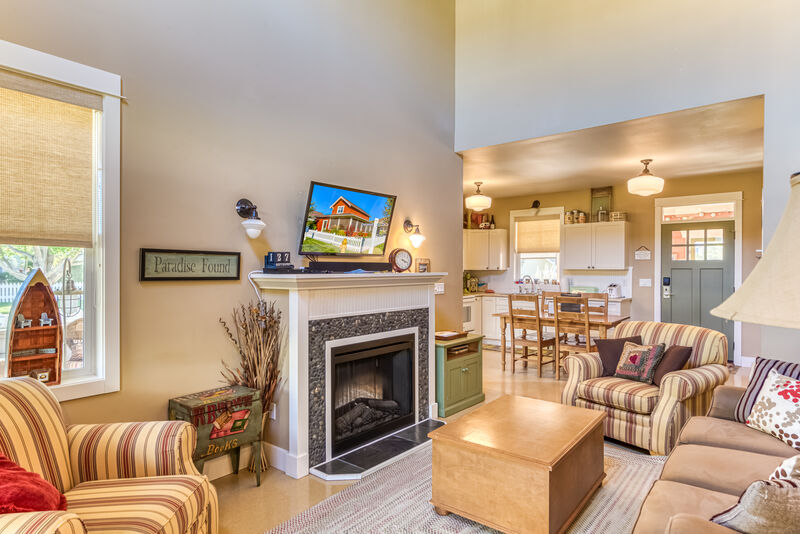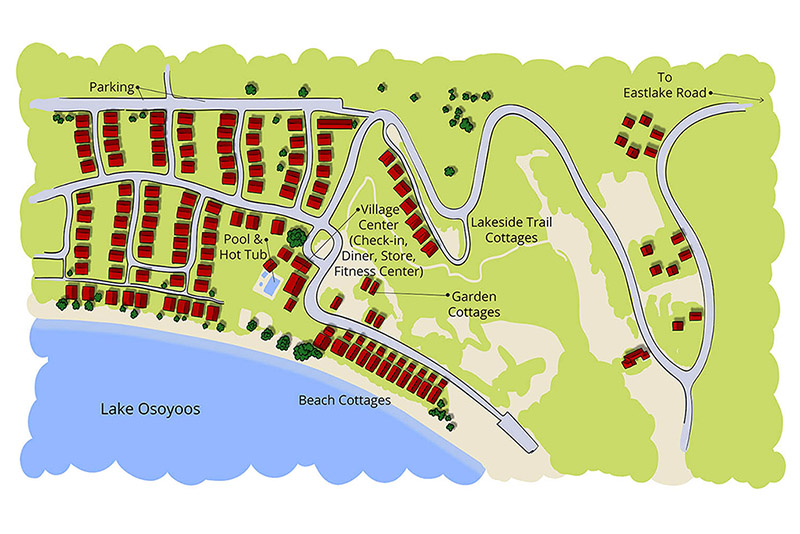 Sneak away for a stay on the down-low at Bootlegger's Bungalow! This spacious and contemporary home is perfect for your vacation business at the border. Sip a cocktail (or mocktail) just steps to the beach at Lake Osoyoos and just a few minutes from Canada.
Bootlegger's Bungalow
Three bedrooms—one with a comfortable bunk bed and a queen-sized bed and two with king-size mattresses—offer housing for even the biggest family gathering. Up to 10 people can find a place to sleep. Up to 11, if a few people don't mind sharing a little space. The arrangement is perfect for three couples who prefer their privacy.
The bedrooms are accompanied by two bathrooms, one full with a soaking tub and one with a shower, ensuring any morning traffic jams are kept to an absolute minimum.
A full kitchen serves the cottage, and it is well-stocked with essential utensils and kitchenware for guests who like to do their own cooking. A new glass top range and quiet dishwasher add to the joy of cooking for friends and family.
The two-story great room itself is comfortably appointed with comfy a couch and chairs, allowing your whole group to watch a movie on the large flat-screen TV in the evening when winding down, or just enjoy some quiet time by the fireplace.
The owners of this cottage are always looking for ways to improve their guests' experiences, so don't be surprised if when you visit, there's something new for you to enjoy. You can also take advantage of many items they've made available for your use - beach towels, board games, bocce ball, fishing poles, volleyball - and more.
More About Bootlegger's Bungalow
The home also features a stunning wrap-around veranda with views of the lake and lots of wicker chairs, two rocking chairs and a dining area that can seat 10. The ceiling fan will keep you cool on those warm summer afternoons. It's a wonderful spot for less adventurous guests to spend the afternoon reading while others are partaking in the numerous outdoor activities in the area.
You'll want to avail yourselves of the nearby lake beach in the summer. Just a few minutes walk, and you'll be taking a dip to cool off from the heat before returning to the house to towel off and doze away the afternoon.
Guests also enjoy resort privileges, including pool and hot tub access. And if you're feeling really adventurous, the cottage is just a ten-minute drive to slip across the Canadian border!
About Veranda Beach
The resort itself holds a hot tub, marina and playground for guest use. The fitness center is available year-round, and the outdoor pool is available as weather permits. Boats and other recreational watercraft are available for rent at the marina. Want to bring your own boat? Slips may be available. We recommend calling for a reservation.
While you're here, enjoy 3,000 miles of trails that crisscross the area, offering gentle day hikes or serious wilderness excursions and a chance for everyone to experience the natural wonders of the Pacific Northwest. In the winter, take advantage of the largest cross-country ski system in all of North America!
Outdoor sports abound in Veranda Beach. Whether you're an avid fisherman, golfer, rock climber or ATV enthusiast, you'll find an adventure perfectly suited to your desires.
Nearby, Oroville is a small town that serves as a hub for vacationers in need of resupply, gas stations or just a nice dinner out. There are scenic views of the valleys and the mountain peaks from every part of the little town.
The Veranda Cottages Promise
Veranda Cottages is the only full-stack vacation rental management company in the area. We vow to make booking with us simple and exciting. We know that booking a rental property home for your vacation can be unfamiliar territory for some, while others know their way around it. Because we know this, we ensure that each of our properties is up to high-quality standards.
We do our absolute best to provide support to our guests when booking. Please note that the resort pool, gift shop and restaurant are open U.S. Memorial Day through Labor Day.
We are available to assist you every day of the year if you have any questions or concerns before, during or after your visit to our home. We have onsite property management available 24/7 for anything concerning that may arise.
Patio Lounge Chairs
Lake Resort
Air Conditioning
Beach Front Resort
Full Lake View
Starry Starry Nights
On Site Restaurant
Resort Hot Tub
Resort Fire Pit
Resort Pool Outdoors
High Speed Wireless Internet
Boat Dock
300+ Days of Sunshine
Name: Bootlegger's Bungalow
Status: Active
Rating:

Type: Cottage
Country: United States
State: Washington State
Destination: Okanogan Valley
Location: Oroville
Resort: Veranda Cottages
Setting: Water Front Area
View: Full Water View
Internet: Yes
Sq. Ft: 1,359
Floors: 2
Entrance Floor: 1
Bedrooms: 3
Beds: KKQTTL
Bunks: Yes
Baths: 2
Normal Occupancy: 8
Sleeps: 10
Max Occupancy: 10
Parking: 2
Pets: None
Checkin: 05:00 pm or later
Checkout: 11:00 am or earlier
Website: BootleggersBungalow.com
Manager: Veranda Cottages
BED CODES: K=King, Q=Queen, F=Full, T=Twin, C=Futon Couch, M=Mattress, A=Air Mattress, L=Sleeper, S=Sofa, U=Trundle Bed, D=Day Bed
Sneak away for a stay on the down-low at Bootlegger's Bungalow! This spacious and contemporary home is perfect for your vacation business at the border.
Property
Outdoor Furniture Unit
Full Kitchen Unit
Living Room - Including Sofa, Led/TV, etc… Unit
Lakefront Location Unit
Patio Lounge Chairs Complex
Full Bathroom Unit
King Bed Unit
Queen Bed Unit
Twin Bed Unit
Deck Unit
Dresser Unit
End table in between beds Unit
Chairs Unit
Child Friendly Unit
Handicapped Access, None Complex
Lamps Unit
Landscaped Unit
Lake Resort Unit
Lake Front Area Unit
Long Term Rentals Welcome Unit
Nightstand Unit
No Smoking Building
No Telephone In Unit Unit
Beach Towels Unit
Wooden Chairs Complex
Air Conditioning Unit
Share Bath Across Hall Unit
Sofa Bed Unit
Bed Lights Unit
Alarm Clock Unit
King Bed Unit
Ceiling Fans Unit
Electric Fireplace Unit
Hairdryer Unit
Hairdryers Unit
Heating & Air Conditioning Unit
Electric Floor Heating Unit
Center of Village Complex
Boat Trailer Parking Complex
No Pets Allowed Unit
Wood stove Complex
Table Unit
Setting
Water Front Resort Complex
Town Resort Complex
Water Front Area Complex
Mountain Area Area
Ski Area Area, 26 to 30 Miles
Ski Resort Area
City Resort Complex
Beach Front Area Unit
Beach Front Resort Complex
View
Full Lake View Unit
Starry Starry Nights Unit
Full Beach View Unit
Partial Resort View Unit
Full Water View Unit
Peekaboo Beach View Unit
Full Garden View Unit
Peekaboo Lake View Unit
Kitchen
Gas/Charcoal Barbecue (Charcoal Not Provided) Unit
Toaster Unit
Spices Unit
Electric Stove Unit
One Days Sundries Unit
Propane Barbecue Unit
Coffee Grinder Unit
Crock Pot Unit
Blender Unit
Cooking Range Unit
Refrigerator Unit
Refrigerator - Freezer Unit
Glassware Unit
Dining Area Unit
Microwave Oven Unit
Oven Unit
Coffeemaker Unit
Cooking Wares Unit
Dishwasher Unit
Pots & Pans Unit
Paper Towels Unit
Plateware Unit
Icemaker Unit
Flatware Unit
Bath
Disabled Access Bathroom Unit
Basic Soaps Unit
Toilet Paper Unit
Cleaning
Iron & Board Unit
Sink Disposal Unit
Vacuum Unit
Laundry Unit
All Linens Provided Unit
Dry Cleaning Area, 5 Miles
Cleaning at Departure Unit
Daily Cleaning Available Unit
Clothes Dryer Unit
Clothes Washer Unit
Convenience
Catholic Church Neighborhood
Evangelical Church Neighborhood
LDS Church Neighborhood
Protestant Church Neighborhood
Currency Exchange Area
Conference Room Complex
Boat Ramp Unit
Public Busses Area
Dining Room Table Unit
Family Friendly Complex
Patio Chairs Unit
Unreliable Mobile Phone Coverage Unit
Self Service Accommodations Unit
Beach Chairs Unit
Pharmacy Area
Fresh Flowers Available Complex
Post Office Area
Security Complex
Free Parking Complex
Baby Crib Complex
Baby High Chair Complex
Services
24 Hour Assistance Telephone
Convenience Store Neighborhood
Grocery Store Area, 5 Miles
Spa Area
Full Resort Priviledges Complex
Front Desk open business hours Complex
Public Library Neighborhood
Massage Area
Medical Clinic Area
Hospital Area
Coffee Shop Area
On Site Restaurant Complex
Full Service Restaurants Area
Hair Salon Area, 4 Miles
High Schools in Area Neighborhood
Security Guard Complex
ATM Machine Neighborhood
Banking Neighborhood
Onsite Bar Complex
Barber Shop Area
Small Plane Airport Neighborhood, 3 Miles
Entertainment
Television Unit
Patio Unit
Dancing Neighborhood
Attractions Area
Marina Complex
Art Gallery Neighborhood
Casino Gambling Area, 41 to 50 Miles
Resort Hot Tub Complex
Book Library Building
Rental Video Library Complex
DVD Player Unit
Game Room Complex
Wine Tours Area
Moive Theatres Complex
TV, Flat Screen Unit
Playground Complex
Televisions Unit
Cable TV Basic Channels Unit
Activity
Resort Pool Outdoors Complex, 5 Blocks
Youth Programs Complex
Table Tennis Complex
Putting Green Area
Water Park Area
Bird Hunting Area
Hiking Trails Area
Gym Complex
Gym Equipment Complex
Hammock Complex
Resort Fire Pit Complex
Fitness Center Complex
Fitness Room Complex
Kayak Rentals Complex
Inner Tubing Area
Sledding Area Area
Snow Shoeing Area
Resort Pool Outdoors Complex
Personal Water Craft Complex
Mountain Climbing Area
Camping Area
Canoe Rentals Unit
Biking Unit
Birding Area
Power Boat Rentals Unit
Row Boat Rentals Unit
Sailboat Rentals Complex
Boogie Board Rentals Complex
Antique Stores Area
Activity Desk Complex
Beach Combing Neighborhood
Business
Business Center Neighborhood
High Speed Wireless Internet Building
Fax Machine Complex
Telephone Unit
Sundry Store Area
Sports
Helicopter Skiing Area
Skydiving Complex
Soccer Fields Complex
Snowmobiling Terrain Area
Volleyball Court Complex
Walking Paths Complex
Motorcyles allowed at Property Complex
Iceskating Rink Area
Freshwater Fishing Complex
Golf Courses Area, 7 Miles
Hiking Area
Horseback Riding Area, 9 Miles
Running Trails Complex
Snowboarding Area
Snowmobile Rentals Area
Snowmobile Trails Neighborhood
Cross Country Skiing Area
Downhill Skiing Area, 26 to 30 Miles
Water Skiing Neighborhood
Paddle Board Rentals Complex
Boat Dock Unit
Mountain Biking Trails Area
Exercise Equipment Complex
Lake Swimming Area
Attraction
Sandy Beach Unit
300+ Days of Sunshine Complex
Festivals Area
Scenic Driving Area
Churches Area
Historical Sites Area
Museums Area
Orchards Neighborhood
Amusement Park Area
Live Music Neighborhood
Public Parks Neighborhood
Farmer Market Area
Flea Market Area
Wedding Services Neighborhood
Wildlife Viewing Area
Windsurfing Complex
Wineries Area, 10 to 15 Miles
Tavern Area
Farm Stores Area, 5 Miles
Nearest
Restaurant Complex
Beach Complex
Bar Neighborhood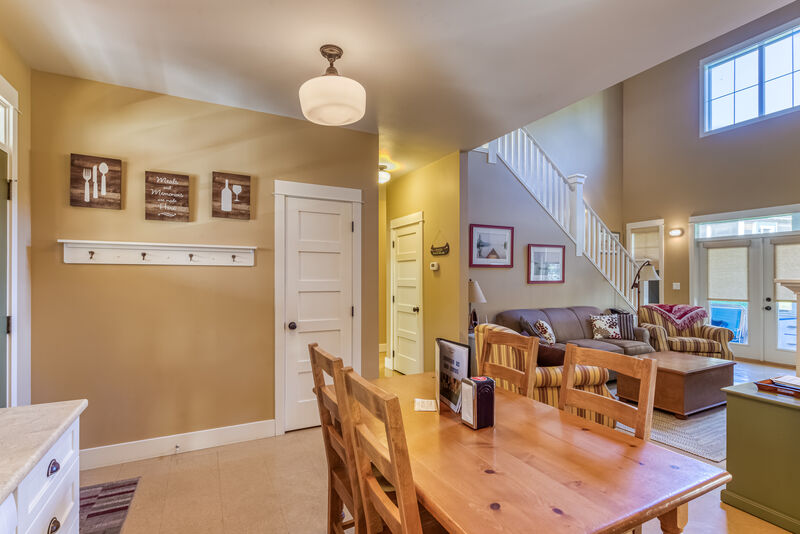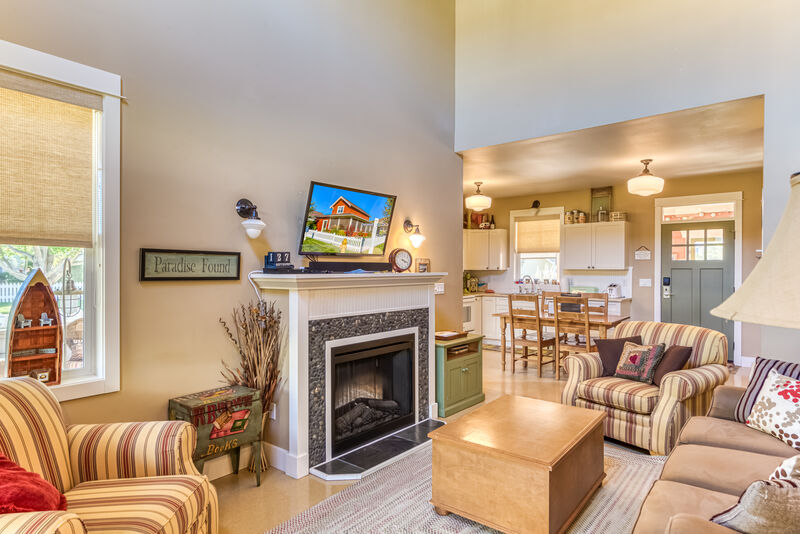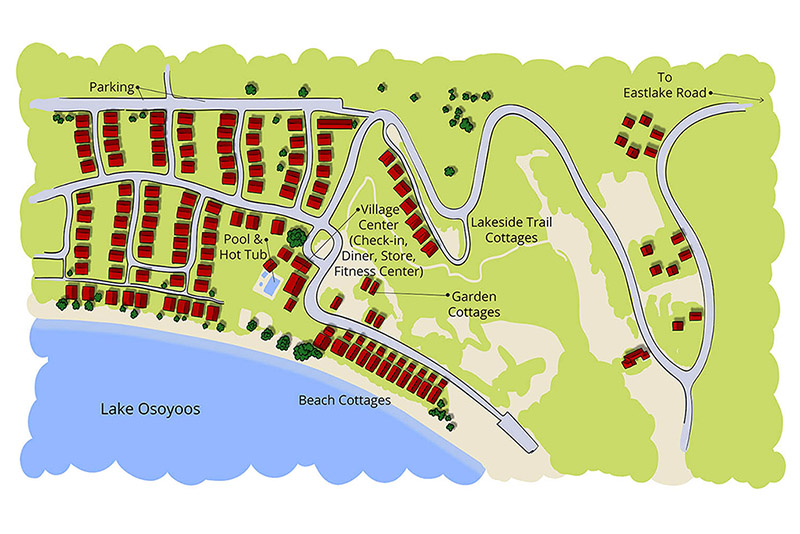 Beautiful house in a wonderful location.
Beautiful house in a wonderful location. The house was very clean and stock with the essentials. We had a wonderful stay!
Great House at Veranda Resort
Our whole family loved this house and beach resort! Would recommend and will be back!
Beautiful House
We had a wonderful stay!
Email Manager
Already a member? Click to login
Not a member? Request info below
Say you saw Bootlegger's Bungalow Cottage (1384) on BootleggersBungalow.com